We're Open for Business
Al Charron National Rugby Training Centre Grand Opening 2018
Read more >>
We're Open for Business
Bear Mountain Parkway Opening 2018
Read more >>
We're Open for Business
The Belmont Market Ground Breaking in Langford BC
We're Open for Business
Goudy Field Planning October 2007
We're Open for Business
Home of Canada Women's Rugby Sevens
We're Open for Business
Sportsplex Groundbreaking
Left to right: Mayor Stewart Young, Hon. MP Gary Lunn, Hon. MLA Ida Chong, and Murray Coell
We're Open for Business
Sportsplex Ribbon Cutting 2011
We're Open for Business
Westshore Parkway Opening 2017
We're Open for Business
YMCA/YWCA Board Chair Sybil Verch at the official ground breaking for the new aquatic center on January 21, 2014 (with Mayor Young and Westhills Mgr. Ryan McKenzie)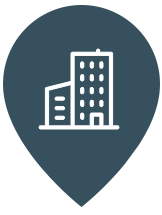 ECONOMIC DEVELOPMENTS
There are many prime development opportunities within Langford's City Centre that are fully-serviced and within an easy walk of transportation networks, shops and services.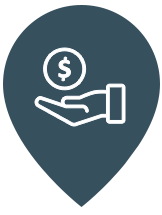 TECH INCENTIVES
Backed by provincial and federal immigration and economic incentives, we offer access to multi-million dollar technology programs and research initiatives.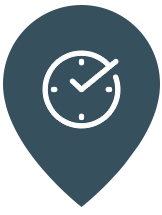 TIMING
Proud to boast one of the fastest and most efficient permitting processes in Canada, Langford offers a governance structure that can move projects forward in record time.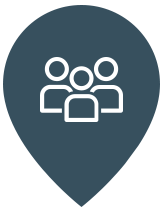 LABOUR FORCE
The educated and talented labour pool, competitive wages and highly-accessible housing market attract some of the best and brightest employees to our region.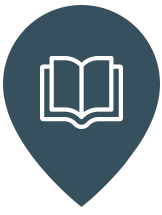 EDUCATION
A total of two university and one college campuses produce both world-class research and exemplary graduates. Combined with a vibrant tech community, our region offers extensive talent pool.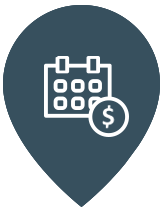 URBAN INCENTIVES
The City is committed to providing new businesses with multi-year tax incentives, reduced development cost charges and flexible zoning and design guidelines.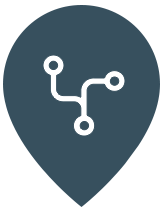 LOGISTICS
Our development sites offer easy access to all modes of transportation, including an international airport, as well as fiber connections that ensure employees and customers are connected across the globe.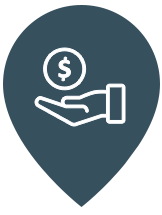 BIDS
As one of the fastest growing and innovative cities in Canada, Langford is committed to attracting new business development to our region. Recent bids include AmazonHQ2 and Smart Cities.
About Langford
City of Langford - Open for Business
---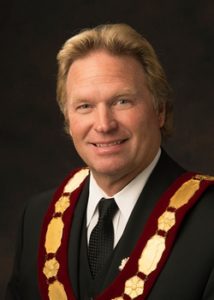 Since its incorporation in 1992, Langford has focused its main direction on becoming a great place to raise a family, start a business, enjoy recreational opportunities and learn with its recent push to bring post secondary education to the West Shore region.
Langford has worked hard to find ways to innovate, build its economy, grow the employment base and support local businesses. Langford has achieved these goals by building strong partnerships, by reducing red-tape and by continuing to invest in our community, not overtaxing our residents. Langford views the development community, First Nations, sports organizations and the non-profit sector as its community partners. All of these partners have worked hard to diversify the employment base, strengthen the real estate sector and build a more complete community.
Langford's proactive approach to business development has been part of its mandate for 25 years so it is no coincidence that it is one of the fastest growing cities in Canada. Langford has shovel-ready sites, with the required access, utilities and zoning, that are in close proximity to a major population centre, international airport, major highway and mass transit. Moreover, Langford and the Capital Regional have a range of housing options that are more affordable than other urban centers, as well as multiple neighborhoods that can grow over time to accommodate the growth of a thriving business. Lastly, Langford and the Capital Region have the capacity to develop, attract and retain first-class talent, with its proximity to mountains and beaches, diverse cultural opportunities and array of nearby top-rated schools and universities.
Langford is well on its way of being recognized as the sports tourism destination and centre of sports excellence in British Columbia. The completion of the Al Charron Rugby Canada National Training centre; hosting the 2018 HSBC Women's Rugby Sevens World Series at Westhills Stadium; the 2017 Mountain Bike Canada Cup Series at Bear Mountain the 2019 National Boxing Championships at Bear Mountain and the introduction of the Canadian Premier League also at Westhills Stadium in 2019 are testaments to this. It is these partnerships, facilities and world class events that help to put Langford on the map, attract visitors to the area and help to strengthen the economic diversity of the community.
In closing, Langford always has been and always will be, open for business. For 25 years, we've thrived primarily because of the strong partnerships we've built with the business community. Langford is also fortunate to have a steadfast and dedicated Council as well as a group of hard working staff at City Hall who in deliver Council's priorities on public safety, affordability, recreation, parks and growing the local economy – all of which serve to make Langford a great place to call home.
Stewart Young,
Mayor
Demographics & Statistics
---
Economic Development Committee
---
The Economic Development Committee (EDC) has been established as an advisory committee to provide recommendations regarding local and regional economic development within the Municipality of Langford.
To achieve this objective, the EDC will report directly to Darren Kiedyk, Chief  Administration Officer and make recommendations in four economic development sectors;
EDC Committee Chair – Dale Gann
Sports, Tourism and Hospitality – Chaired by Dan Matthews
Business Development – Chaired by Jim Hartshorne
Technology and Advanced Education – Chaired by Dale Gann
Arts and Culture – Chaired by Kelsey Young
Economic Developments
Pacific Hill
---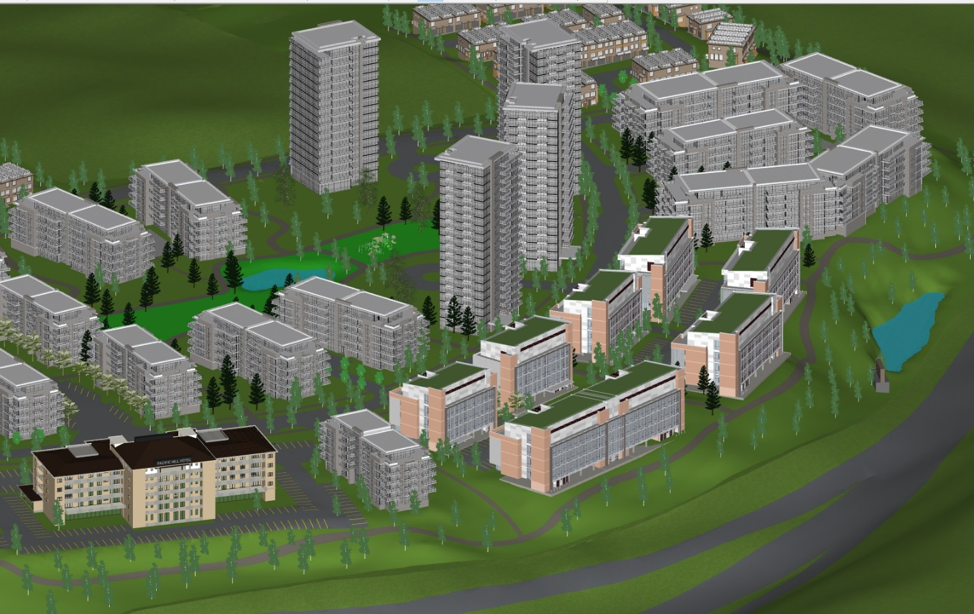 Pacific Hill will be developed as a mixed use residential and commercial business and technology park.
A mix of technological uses will attract and retain world class research and technology businesses, as well as office, retail, hotels, light industrial and a variety of service uses.
The City of Langford, in its continuing efforts to attract quality business and jobs, is offering a 10-year Municipal Tax exemption for the research and technology businesses.
Area:
53.6 Acres
Ownership:
Private
Zoning:
Mixed Use Employment Zone 1 – MUE1
Utility infrastructure:
Water / Sewer / Storm / Hydro / Fibre / Cell
City Gate
---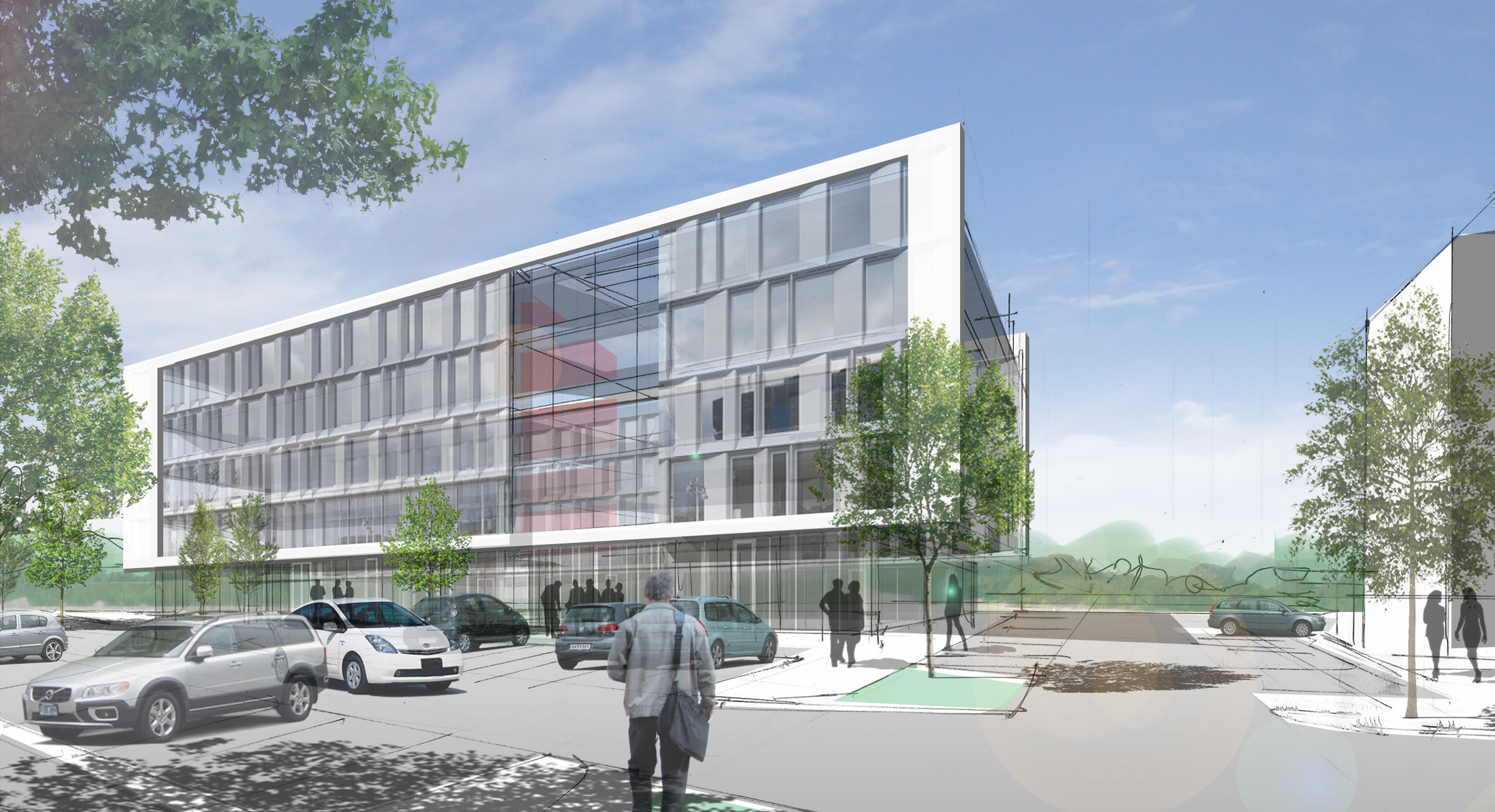 Situated with direct access to the Trans-Canada Highway and Langford City Centre, City Gate at 790 McCallum Rd. provides access to major transportation routes and facilities, a wide array of recreational activities, hiking, restaurants and cultural amenities.
Preliminary design concepts include institutional uses, commercial uses, and a range of residential densities, a transportation hub, and a recreational facility. The site features majestic views of the Olympic Mountains and the Capital Region.
Area:
48 Acres
Ownership:
Private
Zoning:
Mixed Use Employment Zone 2 – MUE2
Utility infrastructure:
Water / Sewer / Storm / Hydro / Fibre / Cell
Bear Mountain
---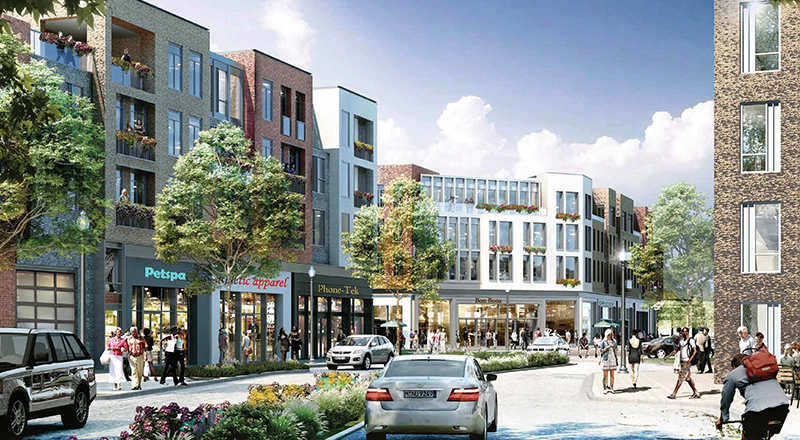 The resort community of Bear Mountain is a master-planned community situated on 1,100 acres of land including an aggregate total of 645,000 SF of commercial and/or office potential, with 206,000 SF of commercial and office space already established. The site offers unprecedented access to sports and recreational services in a beautiful natural setting.
Area:
1,250 Acres
Ownership:
Private
Zoning:
Resort Community Bear Mountain 1 (RCBM1)
Resort Community Bear Mountain 2 (RCBM2)
Utility infrastructure:
Water / Sewer / Storm / Hydro / Fibre / Cell
Westhills
---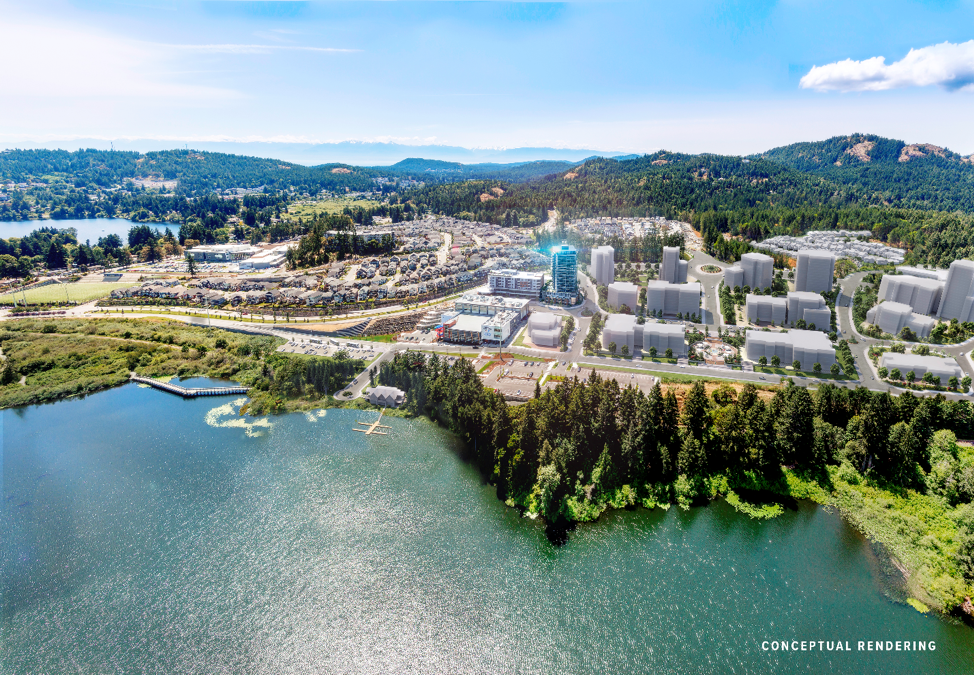 Westhills is a 517 acre mixed-use development bordering Langford Lake with a growing population of over 2,500 residents. The Lakepoint District within Westhills consists of over 30 acres zoned to allow several million SF of commercial (and residential) uses.
This sustainability-oriented community is complete with community services and cultural amenities. Key features include access to major roadway systems (Langford Parkway), active transportation routes, fitness centres (YMCA) and numerous commercial, civic and educational uses including Belmont Secondary School and future elementary and middle schools.
Area:
250+ Acres
Ownership:
Private
Zoning:
Comprehensive Development 3 – CD3
Utility infrastructure:
Water / Sewer / Storm / Hydro / Fibre / Cell
Belmont Residence
---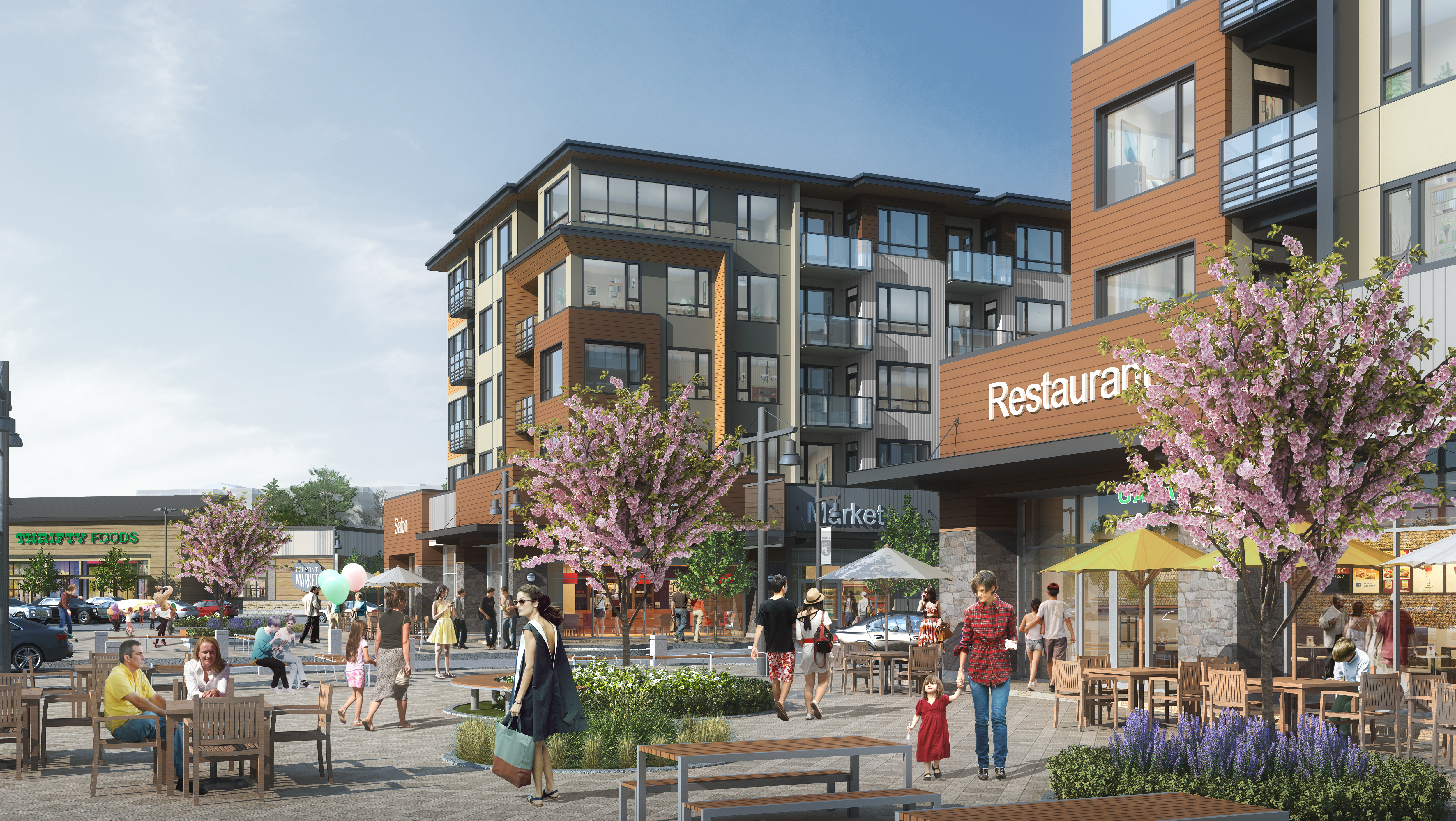 Belmont Residence is creating a perfectly blended urban lifestyle into a magnificent natural setting brought world leading visionaries and expertise to the city of Langford.
The thoughtful mix of condominiums, townhomes and rental apartments in the Belmont master planned community is further enhanced by 160,000 square feet of retail and commercial shops in the upcoming Belmont Market, including a landmark Thrifty Foods. This blend of urban lifestyle alongside the Galloping Goose Trail, sets a new standard for urban living in the West Shore.
Area:
22 Acres
Ownership:
Private
Zoning:
Comprehensive Development
Utility infrastructure:
Water / Sewer / Storm / Hydro / Fibre / Cell
Post-Secondary Education - Westshore
---
Province looks at making post-secondary education more accessible in the West Shore.
The Government of British Columbia is exploring ways to develop a community solution that improves access to post-secondary education and training for people living in the fast-growing communities of the West Shore and Sooke.
"I'm excited that we're engaging with community partners to improve access to post-secondary education and training," said Melanie Mark, Minister of Advanced Education, Skills and Training. "As the first person who ever graduated from high school in my family, and who went on to college and university, I know the power of education. I know how transformative it is and how impactful it can be on our communities."
The Province is providing $250,000 to Royal Roads University, on behalf of the three public post-secondary institutions on southern Vancouver Island, to manage the development of a report for potential program delivery options in Langford, based on need.
In 2017, the West Shore had an estimated population of about 74,000, while Sooke had a population of about 14,000. For the City of Langford, the annual average population growth rate over the last 10 years was 4.7%, making it one of the fastest growing regions in the province.
"We've been looking at ways to advance the delivery of post-secondary education and training to programs in the West Shore for a number of years," said Stewart Young, mayor of Langford."
"It makes a lot of sense to give students pursuing a post-secondary education the opportunity to do that in the community they live in."
Community partners, including students and parents, School District 62 in Sooke, West Shore municipalities, Royal Roads University, Camosun College, the University of Victoria and First Nations, as well as the Ministry of Advanced Education, Skills and Training, will be involved in the local planning process.
"Giving our students the ability to transition to post-secondary education or training, while continuing to live in their home community, is a great option," said Jim Cambridge, Sooke School District 62 superintendent. "Students can stay in a familiar place where they are comfortable, can continue working locally and, potentially, save money by living at home."
West Shore municipalities include the City of Colwood, the City of Langford, the District of Metchosin, the District of Highlands and the Town of View Royal.
More on this topic: https://www.cheknews.ca/west-shore-post-secondary-options-to-be-explored-with-new-study-440920/
Glenshire Business Park
---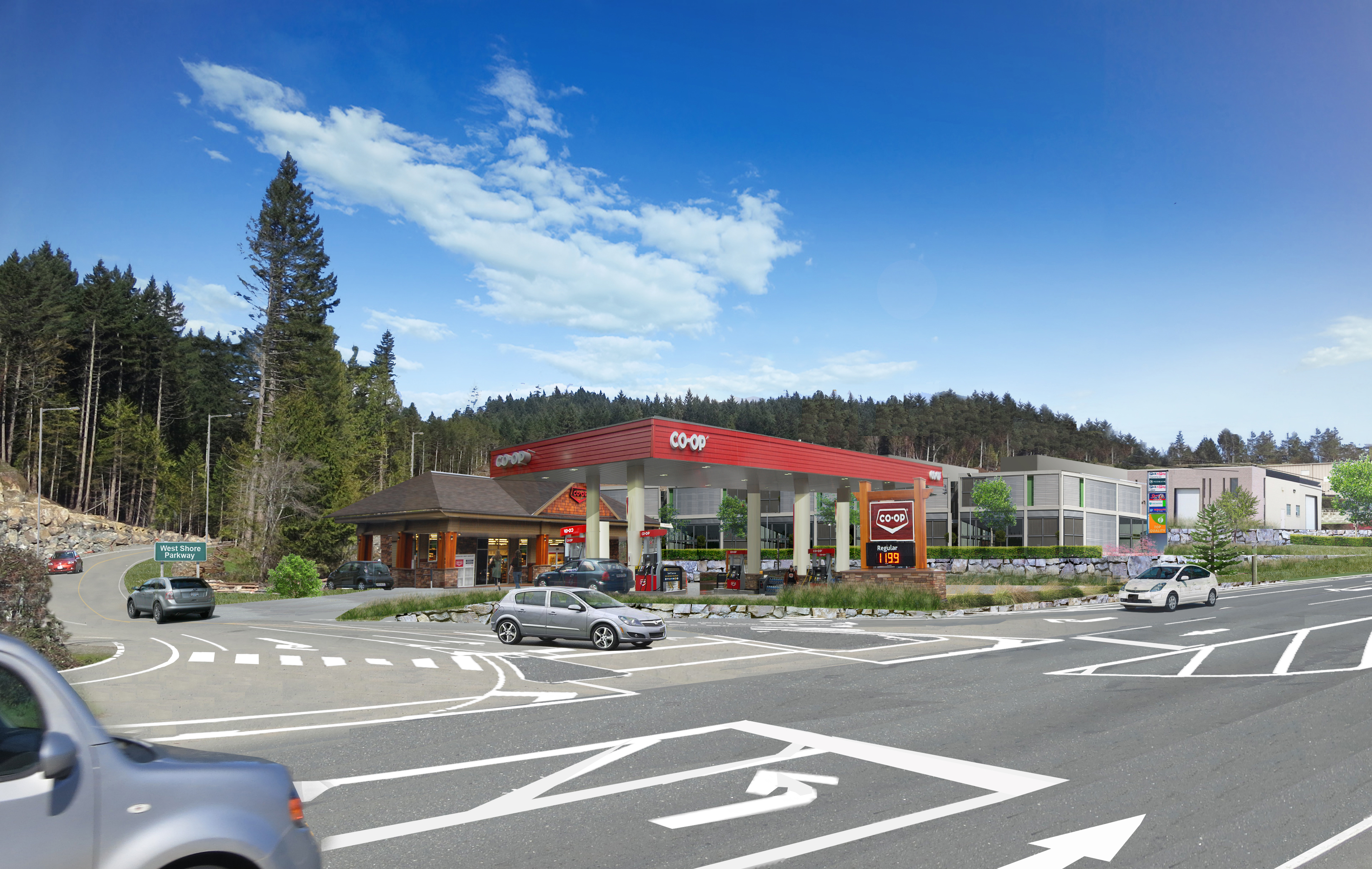 Glenshire Business Park  is situated along West Shore Parkway at Highway 14, Glenshire Business Park combines a high visabity location with flexible, business park zoning.
Area:
25 acres
Ownership:
Private
Zoning:
Business Park
Utility infrastructure:
Water / Sewer / Storm / Hydro / Fibre / Cell
Centre Mountain Business Park
---
Centre Mountain Business Park (CMBP) is a convienently located business park with easy access to the Trans Canada Highway Via West Shore Parkway. The BP8 zoning allows for maxium flexibility with 75 different possible uses.
Area:
176 Acres
Ownership:
Private
Zoning:
Business Park
Utility infrastructure:
Water / Sewer / Storm / Hydro / Fibre / Cell
District 56
---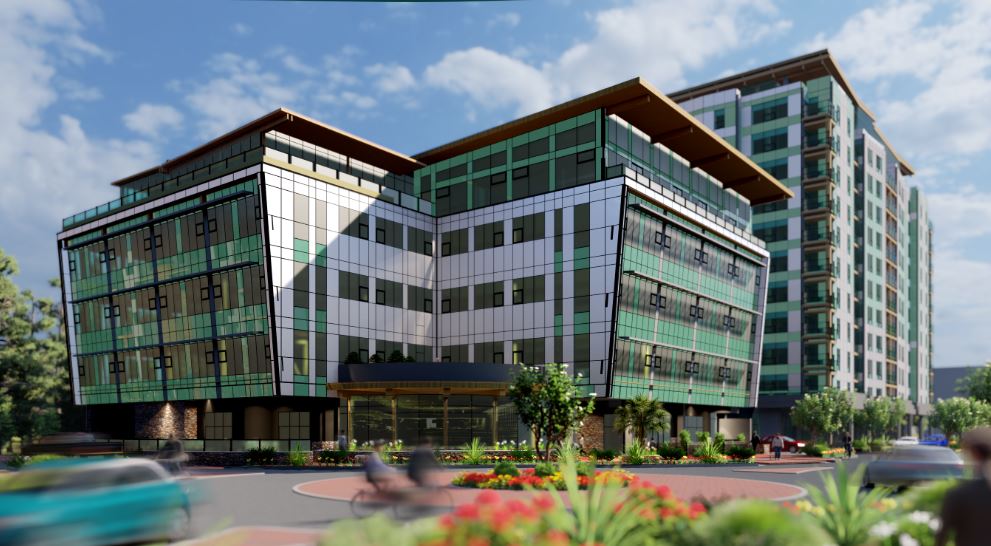 District 56, located at 2840 and 2830 Peatt Road, consists of two developments – Terminus and Tallwood 1.
Nestled in vibrant Downtown Langford, Terminus is an eco-friendly building poised to serve as the hub connecting residents and businesses in the West Shore. Nearby and onsite amenities along with sustainable clean air and energy initiatives make Terminus the leading choice for many businesses. Terminus features flexible floor plans with space for purchase or lease ranging from 1,800 sq ft to 50,000 sq ft.
Tallwood I, a mixed-use residential/commercial, 12 storey, mass timber constructed tower, featuring outstanding views of the mountains and city. Tallwood I will be host to ground level commercial space, and 11 storeys of residential units.
Area:
1.6 Acres
Ownership:
Private
Zoning:
Mixed Use Residential Commercial
Utility infrastructure:
Water / Sewer / Hydro / Cell
Incentives
Invest in Langford
---
The City of Langford is open for business and is excited to work in partnership with the business & development sectors, provincial & federal government, sports, tourism & hospitality, technology & advanced education, and arts and cultural, to reduce development costs, and to minimize red tape by expediting the permitting and rezoning process.
Since incorporation in 1992, the City of Langford has operated the City more like a business than a typical government. Everything that Council does and, by extension, everything in the way that staff are directed, is based on finding solutions rather than putting up barriers. Council believes economic growth is paramount to community sustainability and has always worked hand-in-hand with developers and businesses to generate and support economic development in the region. By continually fostering an environment that seeks to eliminate roadblocks and unnecessary red tape, Langford is known as a place where things get done, a place where things happen rather than just being talked about.
As a result of this leadership, business and entrepreneurs see Langford as the place where they want to do business and must be located. It is no coincidence that the City of Langford is one of the fastest growing cities in Western Canada, growing on average between 4-5% each year and surpassing the Provincial average growth of 1.3%.
In the continued vein of getting things done, the City of Langford is excited to partner with proponents to realize the success of the site. Specifically, the City of Langford is committed to:
Helping proponents secure the proposed development sites by facilitating relationships with the property owners;
Developing, in consultation with proponents, a multi-year property tax incentive program;
Reducing development cost charges and required amenity contributions;
Expediting all permits required to meet proponent's development timeline; and
Facilitating partnerships between proponents and other organizations, including the Province of British Columbia, BC Transit, the University of Victoria, Royal Roads University, and Camosun College.
In addition to the above incentives, the City of Langford is proud to provide proponents with:
An Official Community Plan that speaks of growth and development opportunities in terms of broad objectives and opportunity rather than prescriptive norms;
Certain site locations that are already designated as 'Mixed-use Employment Centre' within its Official Community Plan;
Zoning regulations that are tailored to each individual property's needs and goals;
Development Permits that are processed by staff, which are measured against established objectives and standards rather than the whims of design panels or neighbourhood associations;
Applications to vary zoning being viewed as reasonable alternatives, rather than going against established rules; and
Fast turnarounds on all building permits – 48 hours for a single- family home.
4 to 6 months for development permits.
In summary, finding ways to partner with business is in Langford's DNA. Langford always has been, and always will be, open for business. And with this in mind, Langford is committed to ensuring a successful and lasting partnership with proponents.
Provincial
---
The government of B.C. is committed to supporting B.C.'s technology industry with the tools, funding and resources needed to stimulate economic growth and create jobs.
The Ministry of Jobs, Trade and Technology works across government, with industry and B.C.'s post-secondary institutions to advance innovation and support industry growth. The ministry also has responsibility for Innovate BC, a Crown agency responsible for the policy, administration, operation, and delivery of programs that support innovation, entrepreneurship and business development in the technology sector.
In 2017, the #BCTECH strategy committed to 50 actions to help keep the tech sector growing. These actions are setting the conditions for the growth we've seen in the last year. While we continue to complete and work through our commitments, we recognize that we can do more. In order to keep pace with the changing global economy, we have set a number of new initiatives in order to reach four inspirational goals:
Job growth in the tech sector will remain above the provincial average and reach 120,000 by 2020.
Investment in the B.C. tech sector will be increased by up to $100 million by 2020.
B.C. will become a leader in the innovation economy by working to increase the talent pool by 1,000 grads per year by 2022, with increased grads throughout the province.
Increase the number of tech companies with 10 or more employees by 20 per cent by 2021.
Tax Credits
Digital Animation, Visual Effects and Post-Production Tax Credit – A 16% tax credit rate designed to provide an incentive to production companies employing BC based talent to create digital animation and visual effects in BC.
Production Services Tax Credit (PSTC) – A 28% Labour-based tax incentive that provides tax credits to Canadian or International film and television production corporations that have incurred eligible Labour costs in BC.
Interactive Digital Media Tax Credit (IDMTC) – A 17.5% tax credit rate designed for registered corporations that develop interactive digital media products in BC.
Cascadia Innovation Corridor
This stand-alone entity will have the mandate of progressing linkages between BC, Washington, and Oregon across initiatives relating to research and innovation, talent, and flow of capital.
Canada's Digital Technology Supercluster 
A business-led innovation consortium centered in Vancouver, British Columbia. The Supercluster aims to position Canada as a global leader in digital technologies by bringing together small, medium-sized and large companies, post-secondary institutions, research organizations and not-for-profits. The Supercluster co-invests in ambitious technology development projects and new solutions to improve the sustainability and competitiveness of natural resources, healthcare and industrial sectors and energize the economy. Canada's Digital Technology Supercluster manages the investments provided by the Government of Canada and the public and private organizations which constitute its membership.
Sustainable Tall Wood Buildings
The Government of BC is eager to advance new commercial partnerships to further the use of wood in leading construction projects, including creating links to technical expertise, overcoming code and regulatory barriers, and helping o set "innovation risks" and/or additional costs incurred to commercialize new building technologies and construction practices.
Federal
---
Canada offers the best of both worlds – a highly-educated and diverse workforce, and some of the best immigration incentives designed to access international talent critical to employers. As an economic immigration leader Canada can provide proponents with faster and more predictable access to international talent. Canada's immigration programs are adapting to accommodate the emphasis on speed, predictability and responsiveness that increasingly drive investment decisions. Through personalized support in navigating the immigration system, top talent with specialized skills can enter Canada quickly through dedicated services and shorter timelines for work permits.
The Global Skills Strategy Plan includes setting a two week standard for processing visas and work permits for low-risk and high-skilled talent for companies in Canada.
A Dedicated Service Channel is included as part of the Strategy to provide personalized client service to companies making large, job creating investments into Canada. Eligible companies are linked into a dedicated manager at Immigration and Citizenship Canada (IRCC) who can provide information on available immigration programs and explain the different processes.
With a welcoming and predictable business environment, sound fiscal position and financial system as well as world-class cities, Canada is the best country in the world to grow an international business footprint — and Vancouver Island is the place.
Competitive Business Cost and Tax Environment
Low statutory and marginal effective tax rates for businesses means a higher expected ROI for international investors.
Scientific Research & Experimental Development (SR&ED) Tax Incentive Program
The SR&ED program provides a tax deduction and an investment tax credit of 15% of qualified expenditures, amongst the most generous tax incentive for R&D in the industrialized world.
Strategic Innovation Fund
Canada boasts one of the most stable economies and offers one of the lowest-cost business environments among the G7 countries.
Export Development Canada Financing Support
Flexible financing solutions and support for a range of investments. All levels of government offer a variety of programs to support multinational expansion in Canada.
Labour Force
Labour Force
---
With over 50% of BC's workforce being under the age of 44, a vibrant and growing tech hub, and three world-class universities at our doorstep, the Capital Region truly has a highly educated and innovative labour force able to meet proponent's needs.
Quick Facts
The technology sector directly employs more than 150,000 people.
Employment in the tech sector rose 2.9%, surpassing BC's overall employment growth of 2.5% and national tech sector employment growth of 1.1%.
BC has seen a 1.9% rise in the number of new technology companies in 2015, growing to over 9,900 businesses.
The gross domestic product (GDP) of BC's tech sector expanded 2.4% in 2015, contributing $14.1 billion to BC's overall economic output.
Post-Secondary
---
Credit: Education Victoria
BC universities are producing world-class research and talent: they attract over $800 million a year in research funding and since 2001 they have been awarded over $1.2 billion in funding for research infrastructure and equipment.
Currently, Royal Roads University is leading a study with its partners, UVic, Camosun College, Sooke School District and the City of Langford to improve access to post-secondary education in the Westshore.
Located in one of Canada's most beautiful National Historic Sites, Royal Roads University has a long history of excellence. In 2015, we celebrated 75 years of leadership and learning – 55 years as a military college and 20 years as a public applied research university.We understand the needs and aspirations of our students, and we've created options to deliver an educational experience that fits your lifestyle. Our cohort model features group-based course work, providing a resource of like-minded peers for you to share, challenge and grow with throughout your program. Learn more about RRU in our Crossroads . 
Camosun College is located in beautiful Victoria, British Columbia. Our two campuses, Lansdowne and Interurban, serve approximately 18,500 learners a year in certificate, diploma, bachelor's degree and continuing education programs.  Our education offerings include university transfer and applied degree programs; career and trades training; upgrading and preparatory programs; and continuing education.
The University of Victoria offers innovative programs for more than 20,000 students. Dynamic, hands-on learning, research that makes a vital impact, and discovery and innovation in Canada's most extraordinary academic environment provide an Edge that can't be found anywhere else. Learn more about the UVic Edge.
Funded by the member universities (University of Victoria, and Royal Roads University), the Research Universities' Council of BC works with and on behalf of its members to improve the quality, accessibility and coordination of university education in BC. The Council provides a single voice on behalf of the six major universities on public policy issues including funding, research, accountability, admissions and transfer.
K - 12
---
The Sooke School District SD#62, serving approximately 10,600 students, is located in communities of the school district include Sooke, Port Renfrew, the Highlands, Metchosin, Colwood and Langford.
Our 26 schools cover a vast area and serve the West Shore communities of Colwood, the Highlands, Langford and Metchosin as well as the communities of Sooke and Port Renfrew. SD62 is comprised of:
18 elementary schools
4 middle schools
3 secondary schools
1 adult/alternative school
Immigration
---
Through the active recruitment of skilled immigrants from around the world, BC welcomes approximately 20,000 skilled workers every year, enriching the talent pool, international networks, cultural diversity and multi-lingual capabilities.
The BC government is working on initiatives to streamline immigration pathways to meet the talent requirements of technology companies at all growth stages. The BC Provincial Nominee Program (BC PNP) and federal immigration pathways will help technology companies that need to recruit workers from outside the province based on provincial priorities and selection criteria. It o ers accelerated immigration for foreign workers and entrepreneurs who intend to live permanently in BC, demonstrate the ability to become economically established and contribute significantly to the provincial economy.
Recently the BC PNP launched the BC Provincial Nominee Program Tech Pilot providing a fast-track, permanent immigration pathway for in-demand foreign tech workers and international students. Features of the Program include a dedicated concierge service for tech employers, weekly invitations for tech registrants to apply, priority processing to meet the sector's fast-paced demands, and focused outreach and engagement with the tech sector and industry partners.
The Intra Company Transfer Program permits international companies to temporarily transfer qualified employees to Canada for the purpose of improving management effectiveness, expanding Canadian exports, and enhancing competitiveness in overseas markets.
The number of permanent residents coming to BC (and Canada) has steadily increased over the last five years, with the largest increase in 2016, reflecting a rise in admission levels set by the federal government.
BC has had the third highest national share of immigrants (based on a 5-year average) after Ontario and Quebec.
Comparative Labour Rates
---
In the Capital Region, the average salary is C$49,381. The most popular occupations are Operations Manager, Software Developer, and Human Resources (HR) Manager which pay between C$59,111 and C$63,924 per year. Some popular industries include Software Development, Software as a Service (SaaS) Development, and Information Technology (IT) Services. The most popular employers are CGI Group Inc., University of Victoria (UVIC), and Paretologic Inc.
The figures are drawn from PayScale, a North American Salary database and are meant to provide an indicator of the actual labour cost you may incur.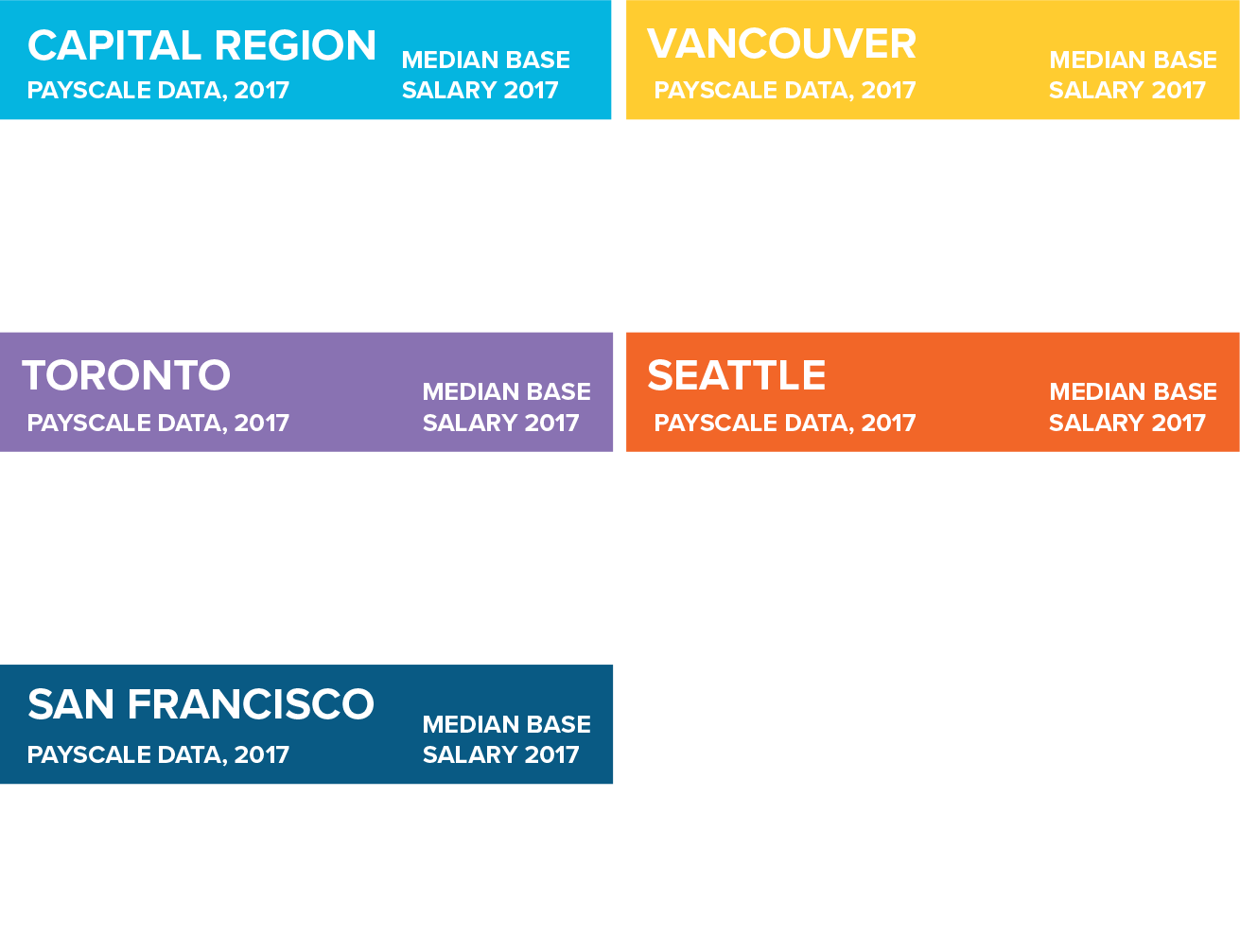 Tectoria
---
Tectoria is a brand name, created by VIATEC (Victoria Innovation, Advanced Technology and Entrepreneurship Council) to emphasize the significance of the technology industry in the Capital Region. Established in 1989, VIATEC's mission is to serve as the one-stop hub that connects people, knowledge and resources to grow and promote the Region's technology sector, which is the biggest industry in the area.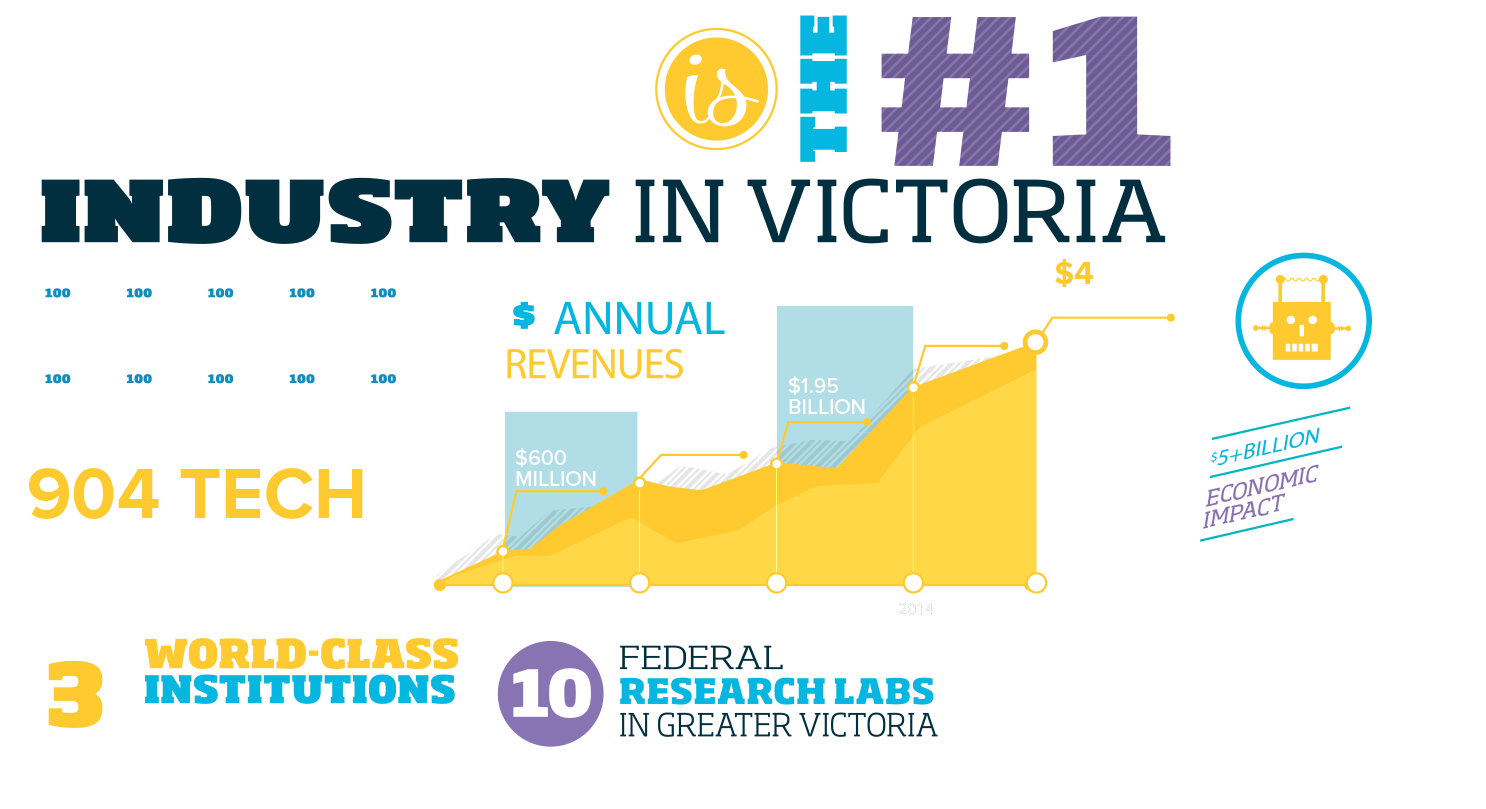 Logistics
Logistics
---
Through recently upgraded and well-maintained airports, floatplanes facilities, ferries, highways, public transit, bike lanes and trails, the Capital Region and of the City of Langford are well-connected to all of the services and amenities of a major metropolitan city.
Major Highways
The subject sites are ideally located in close proximity to the TransCanada Highway, the major transportation spine of the Capital Region and beyond.
Float Planes and Helijet Terminals
Floatplane and helicopter services are popular and convenient transportation options from the downtown core of Victoria, Vancouver and Seattle, providing commute times of 35 minutes and 45 minutes, respectively.
Ferries
The site is also accessible by sea, with dozens of ferries crossing the straits each day and providing passengers with magnificent views of the rocky coastline, forested islands, inlets, and marine wildlife. Victoria's arrival points include the Inner Harbour in downtown Victoria, the Town of Sidney and BC Ferries' Swartz Bay Terminal.
Public Transit
Public transit is provided by BC Transit, and the #50 Express Route to downtown Victoria provides bus service at a frequency as low as every 6 minutes at peak travel times. In addition, Langford is developing a 15 km commuter route on the southern section of the existing E&N rail line.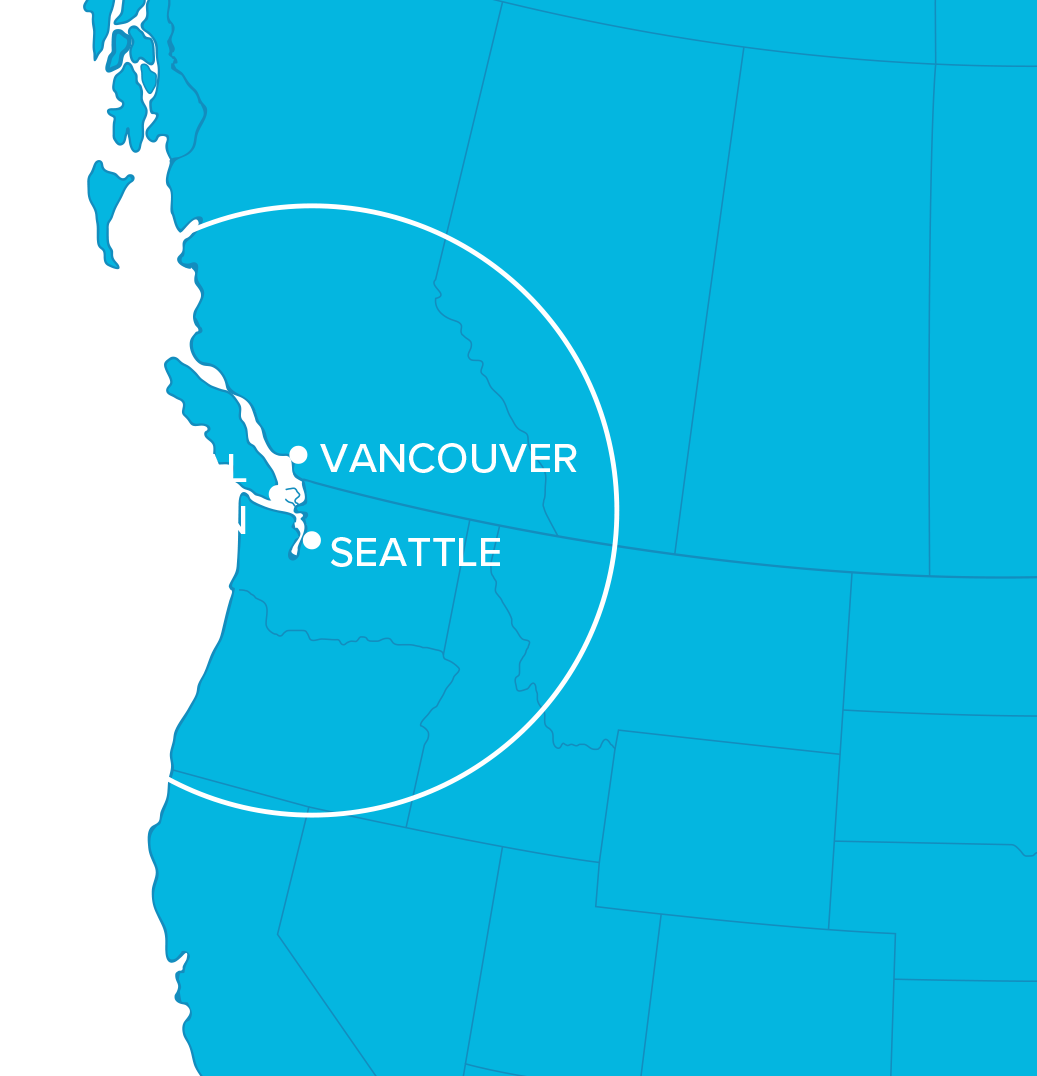 Victoria International Airport
---
The Victoria International Airport is the 10th busiest airport in Canada, the second busiest in BC and one of the fastest growing airports in the country. YYJ was rated among one of the top ten most-loved airports in the world by CNN Travel and is the 2012 and 2014 winner of the 'Best Regional Airport in North America' by Airports Council International. The area is well-served, offering more than 100 daily flights throughout North America. Key non-stop daily service destinations include:
Vancouver
Seattle
San Francisco
Calgary
Toronto
For all other destinations, connections can be made through Vancouver International Airport — just a 14 minutes flight away.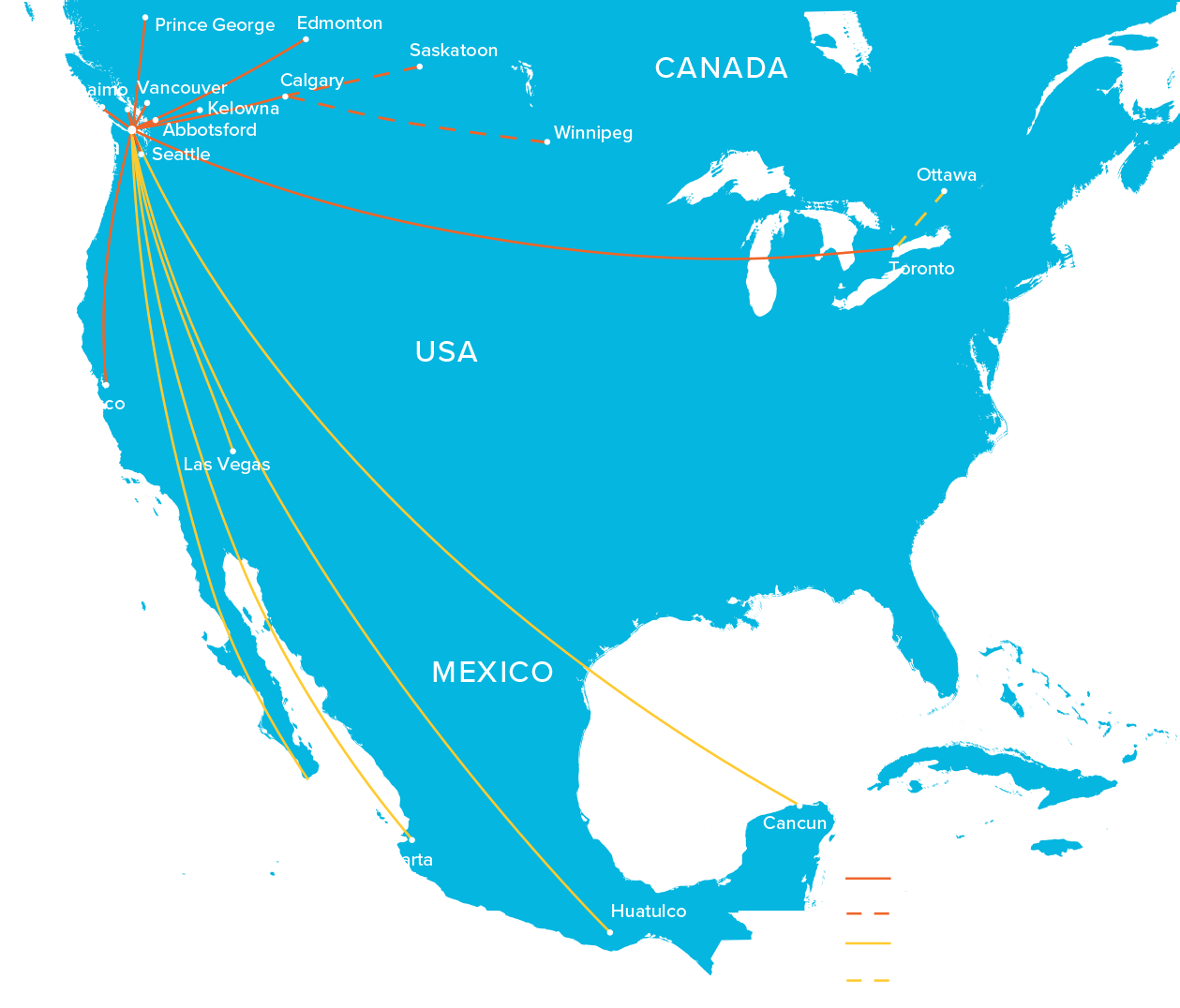 Sustainability
---
The City of Langford has adopted a sustainability-focussed Official Community Plan (OCP), which strives to create a compact, complete community within which residents can meet all of their needs.
This vision is built upon a nodal pattern of development, where growth is directed towards major and minor mixed-use centres strategically located throughout the community along corridors that support alternate modes of transportation, such that all residents have convenient access to a range of jobs, recreational opportunities as well as shopping, services and other amenities. The City has several large master-planned communities that have committed to providing 40% of their lands as green space as well as to incorporate various sustainability measures into their master land use plan and/or individual site development, such as Green Building Certification, reduced potable water usage, district energy systems, and substantial pedestrian and bicycle networks. By implementing this nodal pattern of growth and leveraging opportunities to incorporate sustainability measures into new development, the City of Langford is well on its way to achieving the goals of the OCP.
With regards to District Energy, the City has entered into a Public Private Partnership with Sustainable Services Ltd to operate a district energy system within the Westhills master-planned community. This system incorporates geothermal boreholes installed under Goudy field and also ties into the waste-heat recovery district energy system within the City Centre Park. This system provides heating and cooling within City Centre Park and also provides energy to several hundred nearby homes within Westhills, the energy is distributed through a piped system in the municipal road dedication to each individual house. This was the first-ever system like this installed in Canada.
Connectivity
---
CELL SERVICE AND FIBRE
The City of Langford is within the cell coverage area of the following major cell service providers: Virgin Mobile, Bell Mobility, Rogers, Telus Mobility, Koodo Mobile, and Fido. The City has also entered into an agreement with Telus to install fibre optics line when Telus is conducting service upgrades within their system. Several fibre optics lines are already in place within the City.
POWER (BC HYDRO)
All of the development sites have power service available from BC Hydro. 98% of the power BC Hydro generates comes in the form clean, reliable and affordable energy. In fact, BC Hydro's standard commercial rate is the fifth- lowest in North America, helping keep operating costs low.
*Source: Hydro Quebec Report on Electricity Rates in North America
BC Transit
---
Public Transportation
The City of Langford and BC Transit provide public transit infrastructure that supports efficient, affordable and sustainable transportation options that help citizens and their families get to work, school and essential services on time and back home safely at the end of the day.
Housing
Housing
---
Housing policy in the City of Langford is centered on encouraging the availability of housing across a variety of tenure types. The City of Langford values home ownership and strives to ensure affordability by promoting policies that allow for neighbourhoods to rapidly scale to meet demand.
In Langford, housing is a secure investment that offers sustained price growth, and a strong economy to support it. According to the most recent Census data, 75.8% of the population of Langford are home owners. Housing costs for single-detached homes in Langford compare well with many US and Canadian cities, with high-quality homes situated within a remarkable natural setting with direct access to nature and amenities, obtainable to a variety of incomes.
Bear Mountain
---
Bear Mountain, Canada's only urban resort community offers residents and guests an idyllic natural setting with access to world-class recreational amenities, all within minutes of a major metropolitan city. Bear Mountain captures Langford's outstanding recreational lifestyle in a single neighborhood providing residents and guests access to an abundance of world-class facilities and some of the top professionals in Canada. It is the Official Canadian Training Centre for Golf Canada's Development Squad and the Official High Performance Training Centre of the Canadian National Mountain Bike Team. The lands offer a lifestyle community with a breadth of options; single family, condominiums, townhouses and apartment residences surrounding two world-class Nicklaus Design golf courses and the recently opened largest indoor/outdoor red clay tennis facility in the country. The resort is highly regarded as one of the most upscale developments in the Capital Region due to its high quality of design and construction, stunning landscape and amenities.
The highly desired community continues to evolve and will ultimately accommodate 3,000 plus homes, making it one of the largest and most progressive communities on Vancouver Island. In order to accommodate this growth, there are plans for over 60,000 sq.ft. of retail shopping boutique stores, additional dining options and up to 10,000 sq.ft. of professional space all within the Resort village.
Westhills
---
Westhills is a master-planned community encompassing over 500 acres situated within the City of Langford. Comfortably nestled on the south shore of Langford Lake and surrounded by mountainous terrain to the north and west of Langford proper, Westhills is a model community based on the founding principles of sustainability, affordability, design excellence and quality construction.
Zoning permits 5,950 residential dwellings outside of the Lakepoint area and more than 30% of all single-family homes contain a legal secondary suite.
Westhills is just steps from Langford Lake, the YMCA-YWCA of Vancouver Island, Victoria Conservatory of Music, Greater Victoria Public Library – Langford Heritage Branch and the Langford Aquatic Center — all complete and operational within Lakepoint.
You'll find City Centre Park directly adjacent which includes Westhills Stadium (an all-weather playing field and home of Rugby Canada), Westhills Ice Arena, the Langford Lanes 10-Pin Bowling Facility, Eagle Ridge Arena (dry floor arena), Goudy Field (all-weather playing field), Play Zone, Mini-Golf and Splash Park.
McCormick Meadows
---
McCormick Meadows is an unparalleled offering of well-designed family homes and ranchers. Featuring unique architectural styles with a variety of floor plans, including homes with legal-suites.
With nearly 300 new homes situated off Happy Valley Road straddling vibrant Langford and rural Metchosin in Greater Victoria, British Columbia, McCormick Meadows offers comfort and elegance.
Westview
---
Boasting spectacular views across Southern Vancouver Island, and the Strait of Juan de Fuca towards the majestic Olympic Mountains of Washington state, and offering proximity to an array of amenities accommodating a vibrant and active lifestyle for residents.
Situated on the sunny slopes of South Skirt Mountain in Langford, B.C, this new community is designed to offer housing options to suit families of all shapes and sizes. Occupying over 110 acres, Westview will provide a dynamic mix of single-family, townhomes and condominium residences.  Westview is poised to become one of Langford's most desirable Neighbourhoods, and an opportunity to not to be missed.
South Point
---
The slopes of South Skirt Mountain in Langford, B.C. are home to SOUTHPOINT, a rising new  60 acre community with sunny outlooks over Southern Vancouver Island, the Juan de Fuca Strait and towards the snow-capped Olympic Mountains in Washington State.
SOUTHPOINT is perfectly situated close to shopping, provincial parks and trails, natural lakes and world-class golfing, mountain biking and tennis facilities, as well as the new Langford Aquatic Centre / YMCA-YWCA and the City Centre Park recreational facility.
Housing Comparables
---

Lifestyle
Lifestyle
---
Vancouver Island is Canada's best-kept secret: an emerging tech ecosystem with dynamic talent, amazing culture and an expanding population. Known as an inclusive and diverse community, the area offers residents a higher than average quality of life. Life is safe here — Langford has lower crime rates in most categories than the provincial and national levels.
Our region offers affordable housing, exceptional schools, and spectacular surroundings, so it's not surprising that Langford is one of the fastest growing communities in Canada.
Recreation
---
The City of Langford is home to Rugby Canada, and Langford's Bear Mountain community is home to both Golf Canada (Development Squad) and Cycling Canada (Canadian Mountain Bike Team) and numerous world-class sport facilities — including 36 holes of Nicklaus Design golf, 8 indoor/outdoor red clay court tennis facility. Langford is home to Canadian Premier League, professional soccer, located in our newly expanded 5,500 seat Westhills Staduim. Our residences and families have access to our new aquatic centre in the Westhills Y, a 73,000-square-foot YMCA building  that contains a Greater Victoria Public Library branch and a branch of the Victoria Conservatory of Music.
The iconic Galloping Goose Trail, a popular route both for commuting and recreation, offers 34-miles of cycling path that connects the municipalities of the Region. It's no wonder the Capital Region is considered Canada's fittest urban hub — the area is known as a destination for year-round outdoor adventures and has something for everyone.
Arts & Entertainment
---
The performing arts are well-represented here with both professional and amateur theatres, as well as dance companies showcasing performances in historical playhouses, modern arts centres and small, picturesque community venues. On a musical note, our local talent play west coast inspired tunes at many of the area's pubs, restaurants and unique venues. On the formal stage is the Victoria Symphony, boasting sensational music concerts and festivals. The region is also home to the Art Gallery of Greater Victoria along with numerous other galleries, exhibits and studios. The Capital Region and Vancouver Island boast a year-round schedule of cultural entertainment including live theatre, art exhibits, music concerts, festivals, films and more.
Food & Drink
---
The City of Langford offers its residences and guests access to world class restaurants, pubs, cafes and breweries that call Langford  home. Try our award winning 900° is an independent wood-fired pizzeria, looking for a pub, stop in at our Axe and Barrel Brewing company.  Experience our Jack's Place situation between two Jack Nicklaus Golf Courses.
Retail
---
Shopping plays an important role in everyday life in the Capital Region. The City of Langford provides a rich, diverse urban experience with an eclectic mix of shops and services. Surrounded by Canada's fastest growing quadrant and with excellent access from the TransCanada Highway, people who live, work or visit here have access to first-class retail options, including brand name destination fashion, lifestyle and grocery retailers, as well as local shops with unique wares to suit the needs of the growing community.
Education
---
The magic formula for attracting and retaining the best talent from around the world is having a great place to live with direct access to high- quality education. Appealing to the young and aspiring, your company will benefit from immediate access to the existing pool of potential talented workers, as well as emerging talents from the University of Victoria, Camosun College (2 campuses), Royal Roads University and School District #62, a K-12 schools, serving approximately 10,600 students within the Westshore.
Healthcare
---
British Columbia's publicly-funded health care system, pays for many health costs, including doctors, most medical tests and treatments and ensures that all eligible BC residents have access to medically necessary health care services. Eligible prescription medications, medical supplies, and pharmacy services are offered through the PharmaCare program. This service is available to Canadian citizens, permanent residents, and some work or study permit holders.
Located in Langford, the Westshore Urgent Primary Care Centre is a Primary Health Care Centre designed to provide a range of services in one central location. The goal of the centre is to provide same-day access to team-based primary care delivered by physicians, nurse practitioners and registered nurses, with access to mental health and substance use clinicians.